Align with NIST Cybersecurity Frameworks to Turbocharge Your Organization's Resiliency
To keep you at the forefront of cybersecurity defense strategies and tactics, we follow National Institute of Standards and Technology (NIST) cybersecurity frameworks.
Is your technology secure?
Do you have proof that implemented security tools and tactics are working?
Do you know who has access to your data and devices?
When was the last time your IT systems and data were backed up?
Are you aware of the latest cyber threats targeting your industry?
Do you have a plan in place for adverse events or security incidents?
If not, your organization is not sufficiently protected, period.
Cyber threats are increasing in frequency, complexity, and costs.
Last generation's cybersecurity tools are no longer enough to defend against the onslaught of cybercrimes.
IBM's Cost of a Data Breach Report 2021
The average total cost of a ransomware breach is $4.62 million. Not many small-to-medium-sized businesses can survive that.
Any organization that fails to align with NIST cybersecurity frameworks will be left behind. Don't get left behind. Learn more about NIST here.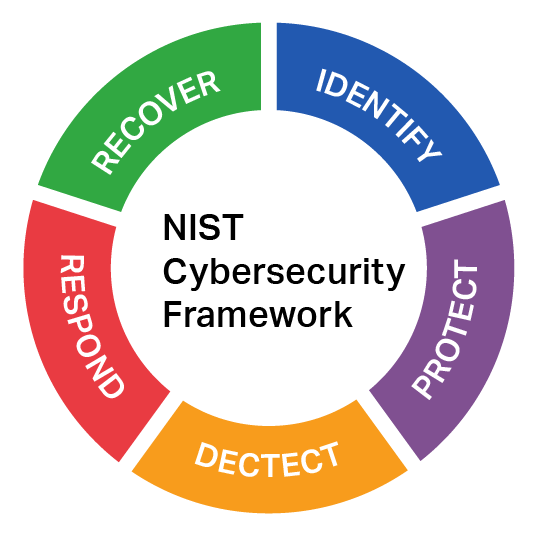 NIST Cybersecurity Framework keeps your organization secure and resilient.
Understand, focus, and prioritize your cybersecurity efforts based on your organization's risks.
Assess your risk
Strategize your risk response
Manage your risk
Keep critical infrastructure safe and limit the impact of a cyberattack with the right safeguards.
Defend your identity to keep outsiders out
Educate your staff on the latest cyber threats
Secure your data
Protect your information
Maintain your resources
Guard your policies, procedures, and agreements
Quickly identify cybersecurity attacks that put your company at risk with data collection and analysis.
Monitor, capture, and analyze your data to stay ahead of threat actors using:
Endpoint Detection and Response (EDR)
Network Detection and Response (NDR)
Managed Detection and Response (MDR)
Log Management
Security Information and Event Management (SIEM)
Implement a Disaster Recovery Plan/Incident Response Plan (IRP) within the Business Continuity Plan (BCP).
Immediately and appropriately act to contain, eradicate, recover and capture lessons learned during a cybersecurity incident or adverse event.
An IRP will tell you how to:
Determine critical network components and prioritize backups
Identify and analyze the incident using logs and other data
Map out mitigation activities needed
Recommend improvements to prevent future incidents
Firmly maintain your organization's resilience and rapidly restore business capabilities to minimize long-term, negative impact.
Your long-term recovery continues with:
Business Continuity Plan (BCP)
Disaster Recovery Plan (DRP)
Realization of recommended improvements
Our cybersecurity partners
Ready for IT Services that keep your data and your people productive and safe?
Contact us. Let's protect your technology together.